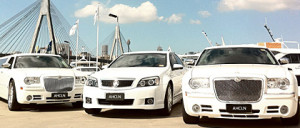 Australian Hire Car and Limousine Network offers a wide range of chauffeured limousine services in Sydney and nearby areas. At AHCLN all occasions are catered for and we manage transport requests for groups of any size with our extensive range of luxury hire cars and vehicles.
We offer you the smart and convenient way to travel with all your parking, luggage and navigation requirements taken care by our designated chauffeurs. Choose from a large number of luxury cars and vehicles, to meet all your requirements for both business and private use.
Our foremost priority is your satisfaction, and we are committed to offering  you a feel good experience. We do this by assuring you of a safe and reliable ground transportation service that is within your budget.
ACHLN provides a premium chauffeured airport transportation service, guaranteed to be on time, always. Each of our cars is equipped with the latest technologies, allowing you to have a comfortable journey to your destination. Our airport transfer packages differ according to the distance travelled and preferred fleet option.
We have state-of-art facilities to monitor your flight timings and any changes are communicated to you and your designated driver. Travel stress free with our Airport Limo services which are available 24/7.
We take your business schedule seriously. Our business travel packages are tailored to meet the daily demands of the corporate world. On time pickups, door to door facilities, well maintained fleet of cars and highly skilled chauffeurs…. These are just some of our premium services that we offer to you and all of our customers.
Allow us to handle of all your seminar and conference travel requirements. A silent and relaxing journey before an important meeting is sometimes hard to achieve. Fortunately we can provide this with your choice of chauffeured hire car.
Take this time to relax, listen to music, watch your favourite movie or prepare for the event itself. Your professional chauffeur will take care of the journey for you. Trust us, our drivers and our impressive limousines to provide you with the best impression at your corporate event.
Keep stress at bay on your wedding day. We offer a range of Wedding Limousine and hire cars to make your special day flow by smoothly. Allow our experienced chauffeurs to look after all your travel needs and transport you between wedding venues in style and comfort. Our Wedding Limo packages offer you services such as music, champagne, red carpet and decorations.
Make everyday events truly unforgettable with our chauffeured limousine Sydney services. Sporting events, Concerts, Family dinners, Birthdays… whatever the occasion, we offer premium Limo services to make your event memorable and fun filled.