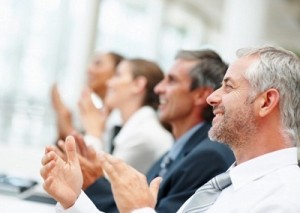 If you are hosting a business conference, seminar or corporate event, or simply need to attend one, you need an adequate transportation plan.
Join our large list of satisfied clients who benefit from our many years of experience in the chauffeured hire car industry. We plan with meticulous detail and provide a large range of luxury vehicles that can easily handle groups of all sizes travelling anywhere in Sydney.
A business conference or seminar is often a time when image is everything and you need to look your best. That is why our range of luxury transport options is perfect. All of our stunning fleet it chauffeur driven by our professional and polite drivers. Leave the transport to us so you  don't have to deal with Sydney traffic. Instead you can focus on any final preparation with your fellow colleagues, or catch up on notes after the event and plan for your next meeting
With plenty of room to stretch out to make business calls or check emails you can relax and be comfortable within our climate controlled vehicles. Upon arrival or departure other conference guests will note your mode of transport and you will leave a positive lasting impression.
We have experience with providing corporate transportation for all of the following corporate events:
– Product launches
– Sponsorship announcements
– Exhibitions
– Site familiarisation tours
– Grand opening of new premises
– Award presentations
– Breakfasts, luncheons and dinners
– Staff incentive and reward trips
– Team building and bonding sessions
– Recreational events like golf days
– Charity and community functions
– Conferences and seminars
Whatever, wherever and whenever your corporate event is, you can rely on Australian Hire Car and Limousine Network's professional chauffeured limo service to excel.
Take the hassle out of transportation planning by partnering with us. We're equipped to take care of everything, from recommending the best vehicles for your corporate event to transporting everyone with minimum fuss and maximum care.
When it comes to conferences, seminars and corporate service in general, no one can match our mix of quality service and perfect prestigious passenger vehicles including BMW 7 Series, Audi A8, Holden Caprice, Lexus RX Series and Mercedes S Class.
Our most popular forms of transport for these occasions include:
– The stunning executive Chrylser 300C for transporting small groups of 1-4 passengers
– The superbly appointed "people mover", the Mercedes Viano which can transport up to 8 passengers very comfortably
– Our Luxury Coach options allowing up to 53 passengers to move in style and luxury in one vehicle.