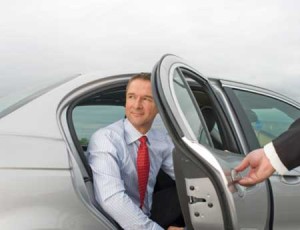 For the busy business owner, limo hire is often needed to transport yourself, your team or clients around town.When reliability, class and style are important to you, it's time to partner with an experienced limousine and hire car operator. Now you can confidently stop your search for that partner.
With our immaculate vehicles and well presented uniformed chauffeurs we ensure that your business reputation is given the highest standard. Impress your travel guests and onlookers wherever we take you through our sleek and luxurious vehicles and professional drivers.
By choosing any of our luxurious and spacious vehicles you will enjoy a relaxed and comfortable ride. Our luxury sedans can safely fit up to four passengers plus the driver however we would recommend no more than 3 passengers in these vehicles. With one in the front and 2 in the back you can all be comfortable and still enjoy the convenience of traveling in a luxury sedan limo.
If your group has more passengers please check out our people movers. With these vehicles we can fit more people due to the extra space. However with our varied options you don't have to skimp on quality if you don't want to. Our Mercedes Viano or Sprinter ensure that opulent style and luxury are maintained. We also have stylish vans, minibuses and coach options.
We understand the importance of being on time for business events, meetings, client catch ups, interviews and seminars. With our extensive experience in the hire car industry and beneficial knowledge of Sydney roads and traffic conditions we can ensure that our team will arrive at your pickup location on time and choose an appropriate route to get you where you need to go on time.
If you're looking for professional executive transport, you have come to the right place. Our large fleet of luxury chauffeur driven vehicles will surely amaze and excite you.
All our vehicles are:
– Late models
– Fitted with up to date technology including phone charging facilities
– Meticulously serviced and maintained
– Cleaned daily
All Vehicles can be stocked with:
– Water or other bottled beverages
– Newspaper or magazine
Our Drivers are
– Well presented
– Professional
– Experienced
– Service orientated
We are confident that once you have traveled with us, you will surely book with us again. After all we understand the importance of business relationships and we want to partner with your business to provide hire car and limousine services as required.
Save our contact details so you can contact us when you need quality and reliable transportation. Or contact us now to setup a meeting to discuss how we can partner with your business as a reliable transportation company.
For further information on our other services, please review our other menu items, such as:
– Airport Transfers
– Business Conference / Seminars
– Leisure & Events
– Package & Custom Tours
We look forward to working with you soon.